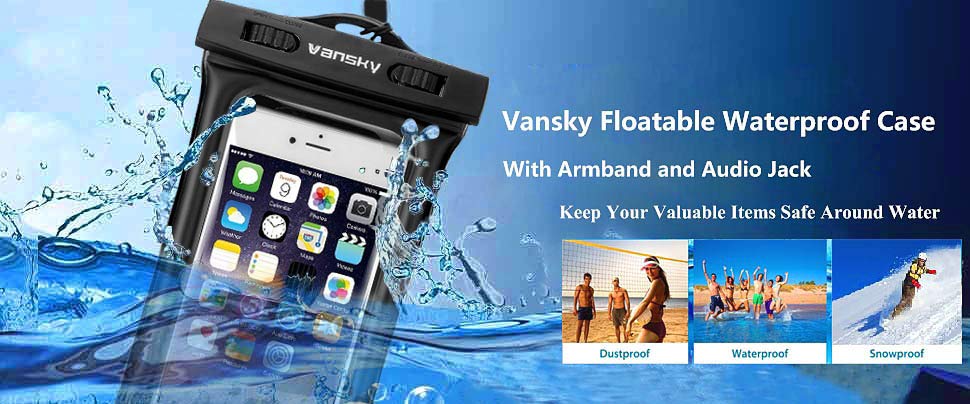 ---
Vansky Floatable Waterproof Case Dry Bag With Armband and Audio Jack​: Prepare Yourself for the Next Adventure!

Worry about water damages of your precious smartphone to venture out or travel outside? Vansky waterproof phone bag is an Highly Functional Solution to keep your phone safe/dry and use!

Full Submersible
IPX8 Certified to 100ft or 30 meters, Crystal Clear Window on both sides,Offers waterproof protection for your device while maintaining full touch screen functionality. Perfect for taking pictures and access touch screens without removing the waterproof bags. Touch-friendly design ensures full functionality.

Heavy Duty
Constructed from premium grade TPU to handle extreme conditions, it protects you from the environment while being friendly to it.An easy-to-use snap clasp and lock seal system ensures full protection while the fully adjustable lanyard provides additional peace of mind.

Sport Type: Boating, fishing, hiking, surfing, wading, snow skiing, snow sledding, water polo, windsurfing, cycling, sailing, diving, waveriding, hiking, climbing, kayaking, canoeing

Universal Design
Compatible with all touch phones under 6.3", it works with the latest high end devices such as iPhone 7,iPhone 7 Plus,iPhone 6,6 plus, 5, 5C & 5S, HTC One/One X/X+, Note 2, Note 3,Nexus 4, Droid Incredible, Droid DNA, Windows Phone 8X, Nokia Lumia and Samsung Galaxy S5, S4, S3 and more.
IMPORTANT INSTRUCTIONS!
1.Please proceed the waterproof test before use.
2.Push out the air from the bag after you put your phone in the waterproof case.
3.When you close the waterproof case,please don't clip grip some part of test paper.
4.When you remove the phone after using the case under water, please place it flat and open the case, or open it face downward,it will preventing the water in the clip from flowing into the waterproof bag when the clip is opened.
Please Attention!
1. Home Button, Fingerprinting and Password Unlock is Available.
2. Sometimes underwater you may can't use the touch screen. In this case, you can try to press home button and lock screen button together to take pictures.​
3. Using your original Lightning to Audio Adapter to connect your iPhone 7 to waterproof case audio Jack.
Included:
1 x Vansky Waterproof Case
1 x Bag Armband Strap
1 x Adjustable Lanyard
1 x Waterproof Test Paper