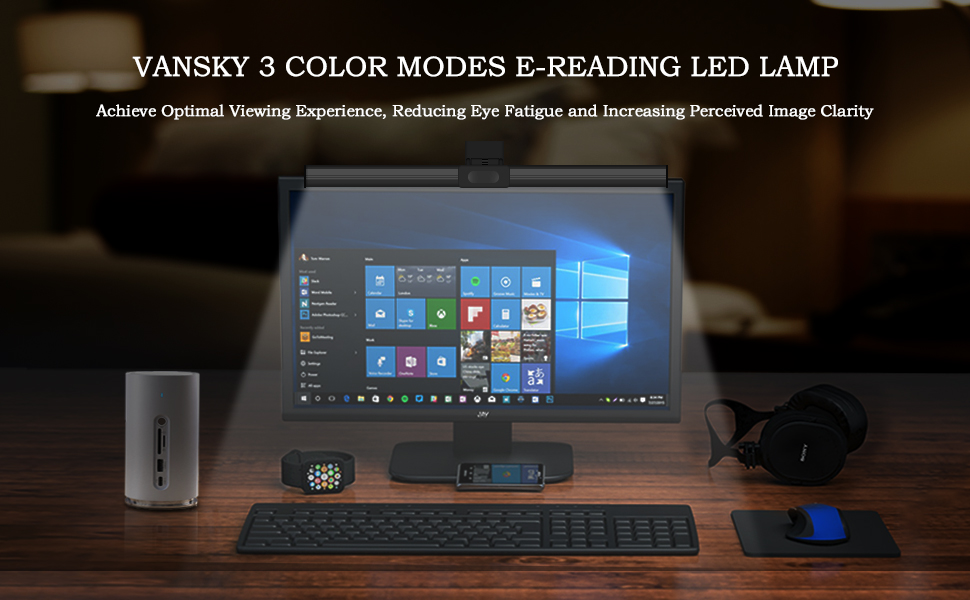 ---
Vansky 3 Color Modes e-Reading LED Lamp
Research shows that we work on the computer for an average of 5.7 hours each day. Staring at the screen for so long causes eye irritation.
To eliminate this discomfort, enough rest helps, but the key to relieve eye strain is sufficient lighting.
Vansky led computer lamp help you to achieve optimal viewing experience, reduce eye fatigue and increasing perceived image clarity.
Glare Free no reflection, only precision lighting
e-Reading lamp has an asymmetrical optical design that only illuminates the desk and doesn't shine on the screen, avoiding reflective glare.

- This bar is assigned controller with dimming and color adjusting function to help you to choose your favorite color temperature and brightness while working and studying in the evening with computer.
- With 84pcs of SMD3014 leds as light source,the rigid bar glows linearly and produces very soft light, which could protect you from eyestrain effectively.
- Especially, the emitting light focuses on the keyboard and desktop under the computer monitor, no light waste and no light reflections, which could bring you a better studying and working environment.


USB powered,No extra wires, just USB
With unique design, there is no need for tape or screws that damage your computer.
Whether it is a computer, phone charger or power bank, any USB outlet can power and light up your desk.
Once turn it on, resumes your last used brightness and color temperature settings to energetically welcome you back to work!