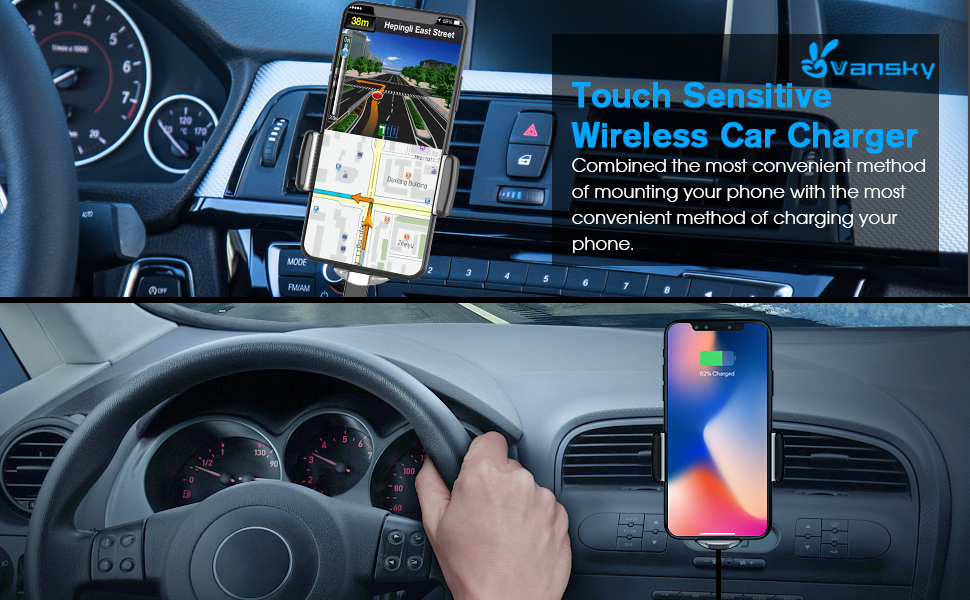 ---

Vansky Automatic Qi Fast Charging Wireless Car Charger Mount Phone Holder
The Vansky wireless car charger mount holder combines a fast wireless car charger and a car phone holder. While your phone is out of battery when you're on the way, at that moment this wireless car charger is a solution to meet your urgent need. The car phone holder can be placed on car air vent, which is easy and safe for you to grab your phone like using GPS navigation while you're driving.


One-hand Operation
Simply drop your phone inside the wireless charger car mount with just one hand. As you place your phone inside, the clamp arms will automatically lock your phone tightly for wireless charging. Touch the sensitive metal or press the button, the arm will automatically release. One hand operation, drop and charge, done with one second, minimizing the danger of driving on journey.
Safe Protection
Built-in intelligent chip with multiple protections, such as Over-Temperature, Over-Voltage, Over-Current, Short-Circuit, etc. It will automatically stop charging while the phone is fully charged, and will start charging again once the battery drop from 100% to 99%, making sure a full-charged battery for you to go.
Compatible Devices
Works with most smart phones, size from 4.5 to 6.4 inches. Wireless charging for Qi-enabled and Fast Charging devices only.
Fit for 10W wireless charge QC 3.0 Samsung Galaxy S9, S9 Plus, S8, S8 Plus, S7, S7 Edge, Note 5, Note 7, S6 Edge Plus;
5W standard wireless charge iPhone X, iPhone 8 Plus, iPhone 8 and all QI devices that support wireless charging.

360° Adjustable Viewing
The air vent phone holder provides flexible viewing angles with the 360°rotatable joint meanwhile ensure reliable wireless charging experience.
Qi Wireless Car Charger
You can securely install this phone holder on almost any vehicles air vents or dashboard with a hassle-free mounting that is managed in seconds, with absolutely no tools required. Not only can you use this inside your vehicle, but also in your office, your room, your study or pretty much anywhere. You have endless possibilities.
Note: The Suction Cup Dashboard Mount is a bonus. You can choose to use or not.