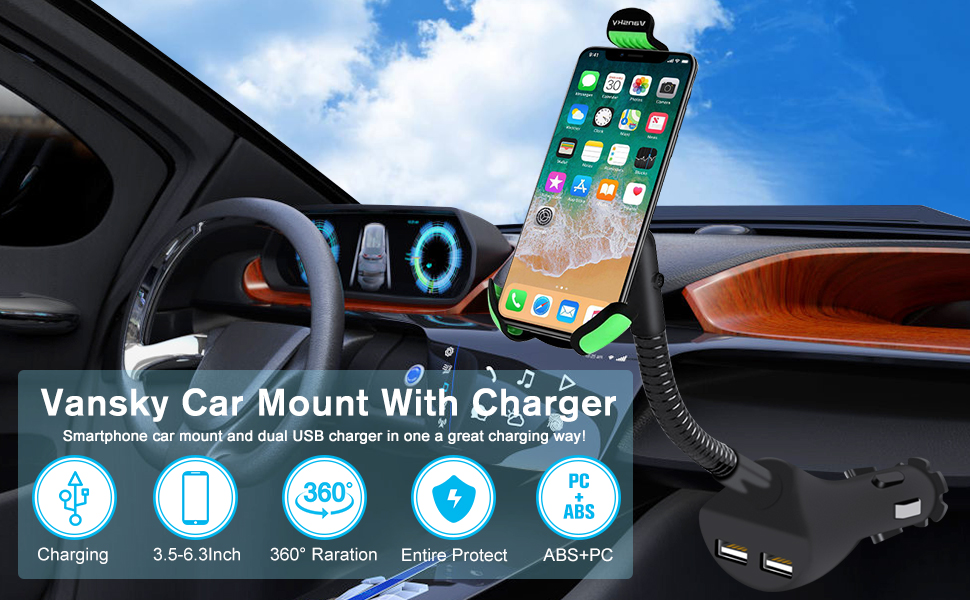 ---
Vansky Gooseneck Car Phone Mount
With Dual USB Charger

Stylish Design,Easy but Highly Functional smartphone Mounting and Charging solution.
The product can mount your mobile device securely on your car while you are charging two device at once.
---
Specifications:
2 Built-In USB Charging Ports (Max 3.1A)
1 Power Outlet
Length of Gooseneck Flexible Rod - 3 Inches
Length of Gooseneck to Top of Clamp - 5 inche.
Please Note:
1.The car phone mount can work for iPhone 8 plus, 7 plus, 6 plus. But It's not fit for Large Screen cell phone with thicker case, especially for iPhone 8 plus, 7 plus, 6 plus with thicker case.
2.Please confirm the cigarette lighter in your car is normal when the car mount connect it. And it supports the cigarette hole for diameter from 20.5mm to 21.5mm, depth from 30mm to 45mm.
3.It is very significant to lock the rotating nut at the back of the phone holder.
4.The car phone mount does not includes usb cord.
5.According to customer' review, the car phone holder may
Not Suitable for LG STYLO1,LG STYLO2, LG G3.
---
Feature:
360 Degree Rotating Flexible Gooseneck Rotating Clamp, Adjustable holder to view your device at any angle or orientation while driving.
UPGRADED Dual USB 3.1A Charging Ports, Connect up to 2 compatible USB electronic devices at the same time And Fast Charge.
Full Compatibility:
-Most GPS Devices
-All iPhone Models - iPhone X, 8, 8 Plus, 7, 7 Plus, 6, 6S, 6 Plus, 6S Plus, 5S, 5C, 5E, 5, 4, 4S
-Samsung Galaxy Models - S7, S 7 Edge, S6, S 6 Edge, S5, S4, S3, S2, Note 4, Note 3, Note 2
-Android Smartphones - HTC One, Google Nexus, Nokia Lumia, Blackberry, Sony Xperia, -Motorola Droid
-Other 3.5-6.3 Inch iOS/Android Smartphones